Apache Web Hosting
Apache Website Hosting provides managed Apache/Linux website resources from within UFIT's infrastructure to run your website. This will allow your project to succeed without the worry of purchasing and maintaining hardware and system software resources. Your website will live in UF's private computing cloud which includes a number of features to make your site highly-available and disaster-hardened.
UFIT Provides
UFIT will provide a managed web hosting environment that includes all aspects of your website's environment. We provide you with access to manage your site's content and application functionality.
Customer Provides
As the customer it is your responsibility to create and maintain all content and application logic that comprises your website. You own and are responsible for the content of your site.
---
Apache Service Menu
All Apache website hosting includes: ($5 / month)
20G disk storage for one website's document root
Document roots accessible via SSH, SCP, SFTP
Secure CGI environment including
Shell access to interactive node for scheduling cron jobs
Highly-available, load-balanced web servers
Nightly backups with offsite storage to protect against data loss in the case of catastrophic infrastructure failure
Optional features: (no additional cost)
Managed SSL certificate. As of 10/20/2014, the default behavior for an SSL site is to redirect all traffic to https. This behavior can be turned off on request, or it can be turned on by request for SSL sites created prior to this date.
Shibboleth Service Provider configuration
PHP FastCGI environment for high-traffic websites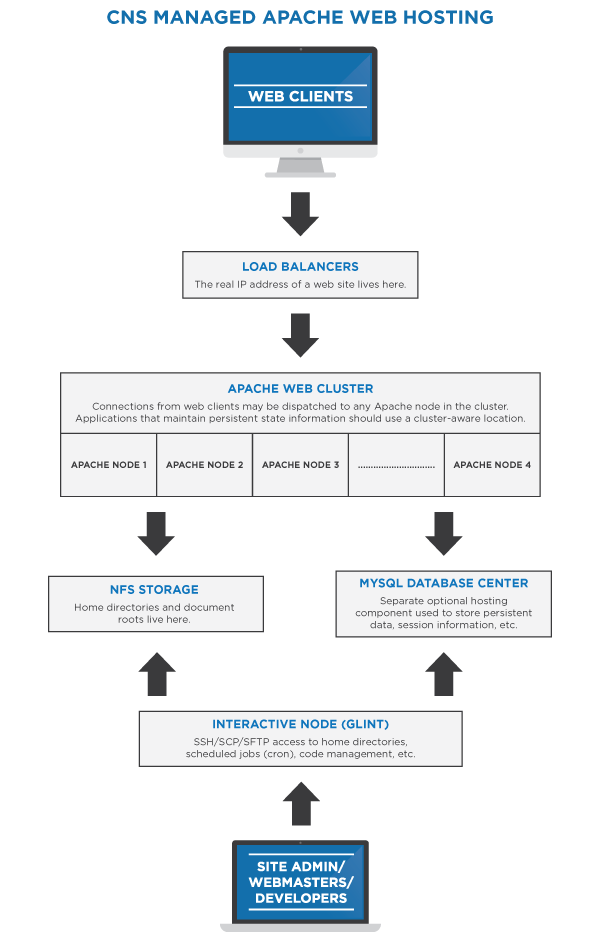 ---
Documentation